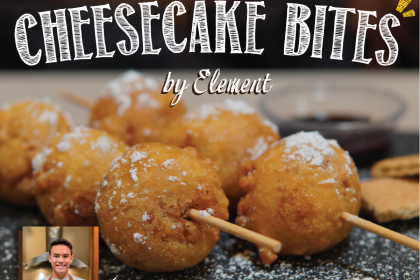 Sup Ninjas!✌
Omg you guys I'm literally so excited about this! 😆
So obviously Sus Hi Eatstation is well known for their delicious burritos, bowls, and sushi rolls. We're also obsessed with their equally yummy appetizers like their rice fries, spicy cauliflower, pork dumplings, and who doesn't order at least one side of krab rangoons?! 😋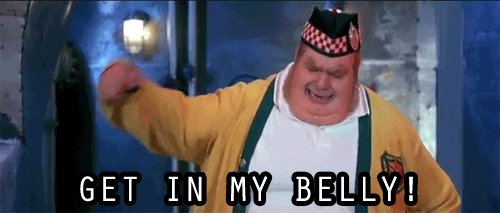 And while the apps and main dishes are always a must, one thing Sus Hi has never had on their menus is dessert…UNTIL NOW!!!
Introducing Cheesecake Bites, our very first Dojo dessert menu item. 😍😍😍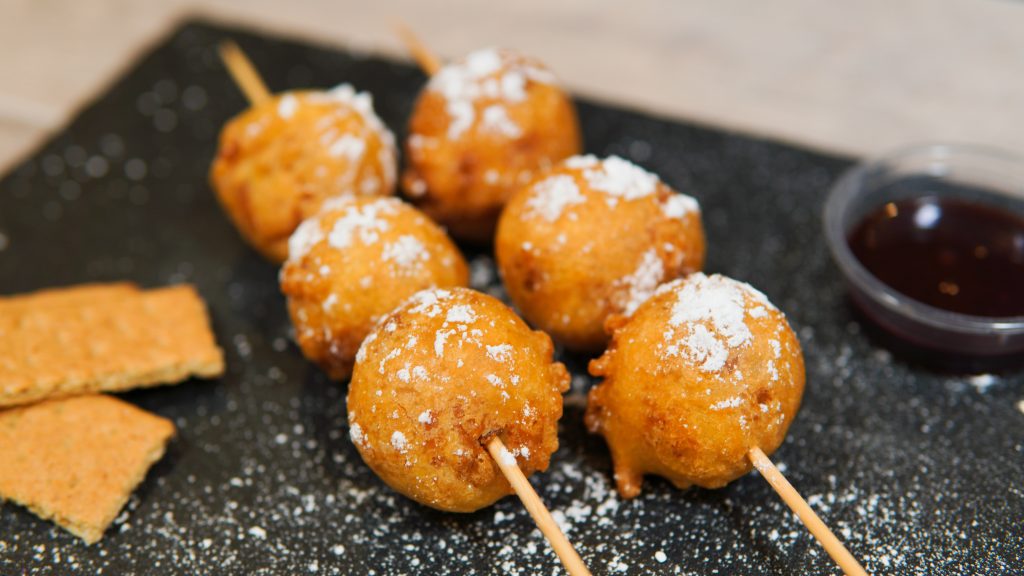 You guys are so not ready for this. These cheesecake bites are out of this world . They are warm and crunchy on the outside, and creamy and decadent inside. Yummm 😋10/10 Ninjas have approved these bites.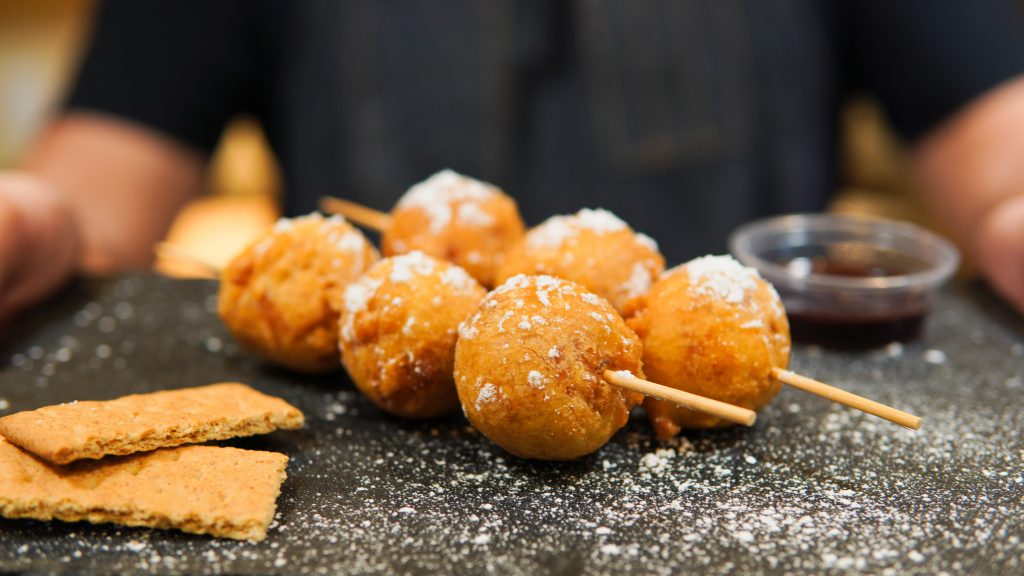 So here's some fun facts about this new ooey gooey treat!
These bites have a decadent cheesecake filling with graham cracker crumbles.

They are coated in a lightly sweet and fluffy tempura batter.

All bites are topped with powdered sugar and even come with chocolate sauce on the side!

Each order of cheesecake bites include six delicious bites served on skewers.

As previously stated this will be the first dessert to be offered at the Dojo. It's been a long time request from their loyal customers, but they couldn't find the perfect dessert to serve until the cheesecake bites were created. It was a match made in heaven!
What's even cooler about these cheesecake bites is how they came to be! 
Sus Hi is always looking for new and creative ways to involve their ninjas in making the Dojos the best they can be, so the company decided to host their very own Food Wars Competition where ninjas could enter to compete. Each ninja who entered had to come up with their own unique dish (appetizer, entree, or dessert) that they thought customers would love. Whoever won the competition, not only received a cash prize but also got their creation added to the menu!
And that lucky winner was future Master Chef in the making – Ninja Element aka Jason Van!👏👏👏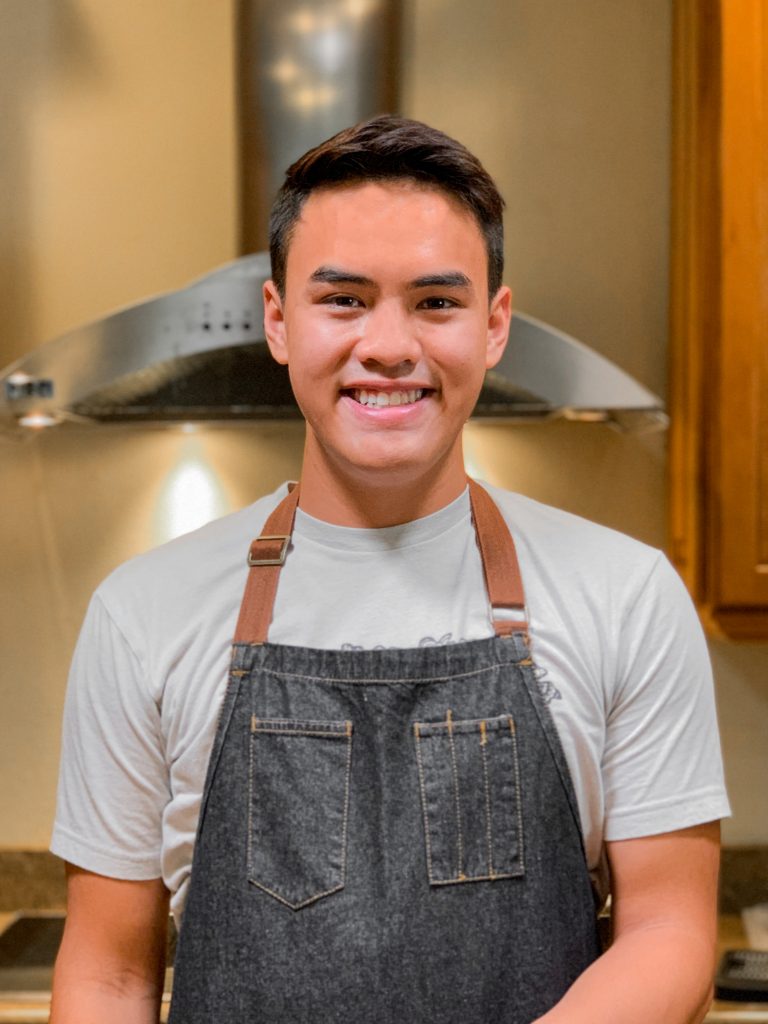 He resides at the Lake Nona Dojo, and he came up with the sweet and savory cheesecake bites! And he's only 18 years old!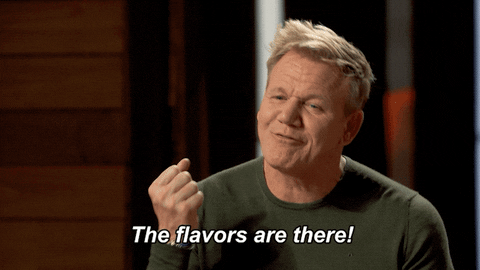 Q & A with Ninja Element! 
1. Question-  How did you get the idea of making cheesecake bites? What was your inspiration?
Ninja Element-  Cheesecake is one of many foods I love to eat.  It is super easy to make and it's usually my go-to dessert.  In my opinion, having to mainly stick with the ingredients in the Dojos, cheesecake was the easiest dessert option to create based on what we already have.  
2. Question-  How long have you been baking and what made you get into it? 
Ninja Element-I don't bake that often, but baking and cooking is one of my hobbies.  I love to cook because it's honestly an important life skill to have when you get older, and when I was younger, I would always watch my grandma cook.  Thanks to my sweet tooth, baking just came with my cooking skills.
3. Question- What was your reaction when you found out your cheesecake bites were going to be on Sus Hi's menu?
Ninja Element- I probably didn't show much emotion when we were doing the Food Wars Finale, but I was definitely excited to hear that my dessert was going to be on the menu!  It's exciting to know that something I created is going to be shared with everyone in the local community.  
4. Question- Did you have any another dessert ideas other than the cheesecake bites for the contest? 
Ninja Element- When the announcement about Food Wars was posted, deep fried cheesecake bites instantly came to mind and that was the only thing I could think of without repeating another idea from other ninjas.
5. Question- Is there anything you want to say to all the ninja customers that will be trying your delicious cheesecake bites for the first time? 
Ninja Element- I would like to say , "It's definitely not your average cheesecake, but I hope that all our Ninjas enjoy this new treat!  We all know there is always room for dessert!"  
Ninja Element's yummy cheesecake bites will be making their way into all Dojo locations November 8th so get your bellies ready!!