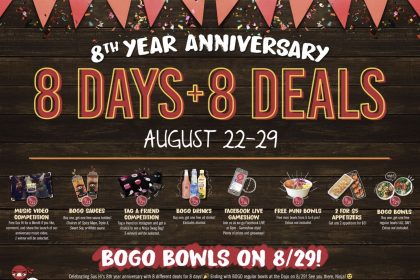 Hi-Ya Ninjas!! It's that time of year again! It's time for our EPIC 8th year anniversary event! Starting Aug 22nd, through Aug 29th, we'll be having 8 different deals for 8 days, celebrating the final day with BOGO at the Dojo!
These deals are great, but before we talk about all the upcoming deals lined up for our anniversary event, let's take things back and talk about the history and origin of Sus Hi Eatstation and its founders. Here's a little story you may not know about the founders!
HISTORY
Sus Hi was created by husband and wife power couple Robert Ly and Teresa Ly. We know them by their ninja names, "Grandmaster FunLy" and "Grandmaster Miso Eel!" When they first met, they never imagined opening up a business together because they had their own ambitions in life, but their passions collided. They're both huge foodies and when they went on their foodie adventures, they fantasized and brainstormed about what they would create, and do differently. They thought about what was missing in the fast-casual food industry. There were so many fast-casual options at the time like burgers, pizza, tacos, etc., but nothing for their favorite food- SUSHI! 😍
Next, they wanted to create something different from the traditional sushi restaurant for their "fast-casual" dream. A couple of years later, they were offered the chance to build a business together and BAM! They went to work! They came up with a customizable assembly line that you'll find today. When they first started, they didn't know how customers would accept the concept, but they laid everything out for the world to see and they were ready to work incredibly hard.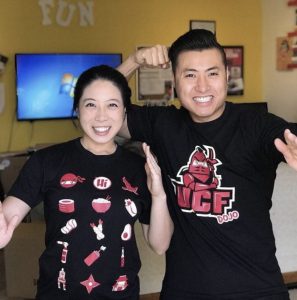 Before Sus Hi, Robert graduated with a Film degree. He loves watching as well as creating movies. He was working at restaurants all over Orlando from big-chain restaurants to mom-and-pop shops to get himself ready to open one of his own. Teresa was still in school at the University of Central Florida studying business. She was finishing up her very last year but before she was done, the restaurant opened and took over her life. Because of studying at UCF, Teresa knew she wanted to continue being a part of the community and eventually give back to the school that gave her so much.
The "Grandmasters" spent a year doing research and getting funding, then another year getting their licenses, for the build-out, and employee training. After countless hours of hard work and passion, the first Dojo (UCF) opened on August 29, 2011!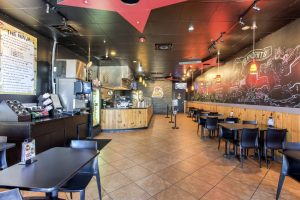 Fast forward to today, we went from 1 location to now 5 total locations!
(UCF, Altamonte Springs, Lake Nona, East Colonial, and Millenia)
EPIC Music Video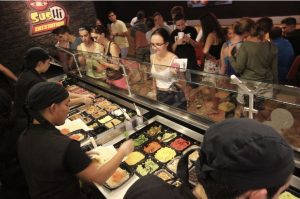 Since our first year in 2011, we started a tradition of celebrating our anniversary with BOGO at the Dojo- A buy one, get one free deal! It's always a crazy popular all-day event, now at every dojo. Every year, we started taking it up a notch by doing different deals, giveaways, and other fun events. In 2018, we even made an original song and music video called BOGO at the DOJO to launch our anniversary week!
This year we will be doing a remake of the song and music video, making it even more FIRE!🔥 If you've ever seen our other EPIC videos, we love inviting ninjas to come out and just have fun with us! The launch of the music video will be 8/22, which is the start of our 8 days of deals! Click on the image below for a link to our last BOGO at the DOJO music video!
<iframe width="560″ height="315″ src="https://www.youtube.com/embed/zvQLZbtmR0c" frameborder="0″ allow="accelerometer; autoplay; encrypted-media; gyroscope; picture-in-picture" allowfullscreen></iframe>
DEALS
This year is our 8th anniversary and because of that, we will be celebrating with 8 different deals for 8 days, leading up to the BOGO bowl finale! From competitions to BOGO's and FREE stuff (omg), here is the list of the awesome deals for anniversary week!
Ya'll ready for this??
DAY 1: Music Video Competition: 🎬
Okay, who wants FREE SUS HI FOR A MONTH? 🙋‍♂️🙋‍♀️
All you gotta do is LIKE, COMMENT, and SHARE the music video post on Facebook and Instagram. Easy peasy, lemon squeezy! (1 winner selected)
DAY 2 – BOGO Sauces: 💯
Are you all about that sauce life? Buy one, get one free sauce bottles! The options are 4 of our most popular sauces: Spicy Mayo, White Sauce, Sweet Soy, and (the OG) Triple X. You know you want to!
DAY 3 – Tag a Friend Competition: 👭
Earn some ninja SWAG! Tag a friend on Instagram to be eligible to win a Ninja Swag Bag. 5 winners will get our Ninja Swag bag that includes: T-shirt, Pop-Socket, Lanyard, Ninja Mug, and a $10 gift card!
Day 4 – BOGO Drinks!: 🥤+🥤
We're sippin' dranks 'cause we feelin' thirsty! Buy one, get one free on any of our drinks! Choose fountain drinks, Ramune, Izze, and Aloe Vera! Selection varies per Dojo. Deal excludes alcohol.
Day 5 – Facebook Live Show: 📱💻
Okay, okay.. we are super excited to host our Facebook Live Show – Gameshow style!! JOIN US as we go LIVE at 6 pm with your gameshow host – Master spARC! There will be tons of prizes and giveaways during this 30 minute FB live show! Seriously, you don't want to miss it.
Day 6 – Free Mini Bowls: 🍚🥢
WHAAA?! Did you say FREE? Oh yeah…we're giving away FREE MINI bowls from 5-6pm at every dojo location. (Extras not included.)
Day 7 – 2 for $5 Appetizers: 🍤+🍤
Apps galore!! Get ANY 2 appetizers for just $5! A wide selection of appetizers such as krab rangoons (best seller), rice fries (omg) pork or veggie dumplings, spicy cauliflower, egg rolls, and more!
Day 8 – BOGO Bowls 🎊🎉
It's party time!! The Grand Finale! Buy one, get one free regular bowls, ya'll. All day long at any dojo location. Extras not included.Bada bing, bada boom!! 🍾
There you have it, Ninjas!! 8 epic deals for 8 different days! Come join us on August 22 – 29! We're so excited to celebrate this special event with you all!